Counseling & Therapy Newsletter June 2021
Jun 23, 2021
Counseling & Therapy, Newsletter



Honoring LGBTQ+ Pride Month
As we make our way to the end of PRIDE month, we want to honor and highlight the LGBTQ+ community and bring to light the struggles impacting many of these individuals. 
4.5% of the US population identifies as LGBTQ+; nearly 15 million people.
The percentage of those who identify as LGBTQ+ decreases as age increases.
More women (5.1%) than men (3.9%) identify as LGBTQ+.
Individuals in this community regularly face prejudice, harassment, and discrimination. For individuals identifying as LGBTQ+: 1/3 will experience a mental illness, which is 60% more than the heterosexual population. They will also be 2-3x more likely to have long-term psychological or emotional problems.
Especially challenging are the teen years.  Compared to heterosexual teens, LGBTQ+ teens are:
2x more likely to feel sad or hopeless for extended periods of time.
1 in 4 have been thrown out of their homes.
7x more likely to be victims of a crime.
3x more likely to consider suicide.  
4.5x more likely to attempt suicide than heterosexual teens.
For many LGBTQ+ people, challenges often continue into adulthood. Compared to heterosexual adults, LGBTQ+ adults are:
56% more likely to develop an alcohol use disorder
Almost 3x as likely to develop another substance use disorder
In addition, because of the continued discrimination and stigma surrounding this community, LGBTQ+ individuals can experience larger health disparities that can be associated with higher levels of mental health disorders, substance abuse, and suicide.
Troubling experiences of violence, harassment, and discrimination can cause long-term effects on an individual's mental health. Individuals in this community at times may feel it is hard to reach out for support and treatment for their mental health or substance use issues. However, individuals in the LGBTQ+ community utilize mental health services 2.5x the rate of heterosexual individuals.
There are many treatment programs specifically designed for LGBTQ+ population. There are facilities that treat only LGBTQ+ population both with mental health but also substance use disorders. These specialty programs increases the feeling of safety so that true recovery can take place while in treatment. Also, there are many individual clinicians who specialize in working with LGBTQ+-identifying clients. When contacting mental health clinics, it is okay for LGBTQ+ clients to request a clinician with this specialized training.
FamilyMeans is proud to be an ally of the LGBTQ+ community and look forward to serving these individuals. If you or someone you know need help, please contact us to set-up an appointment.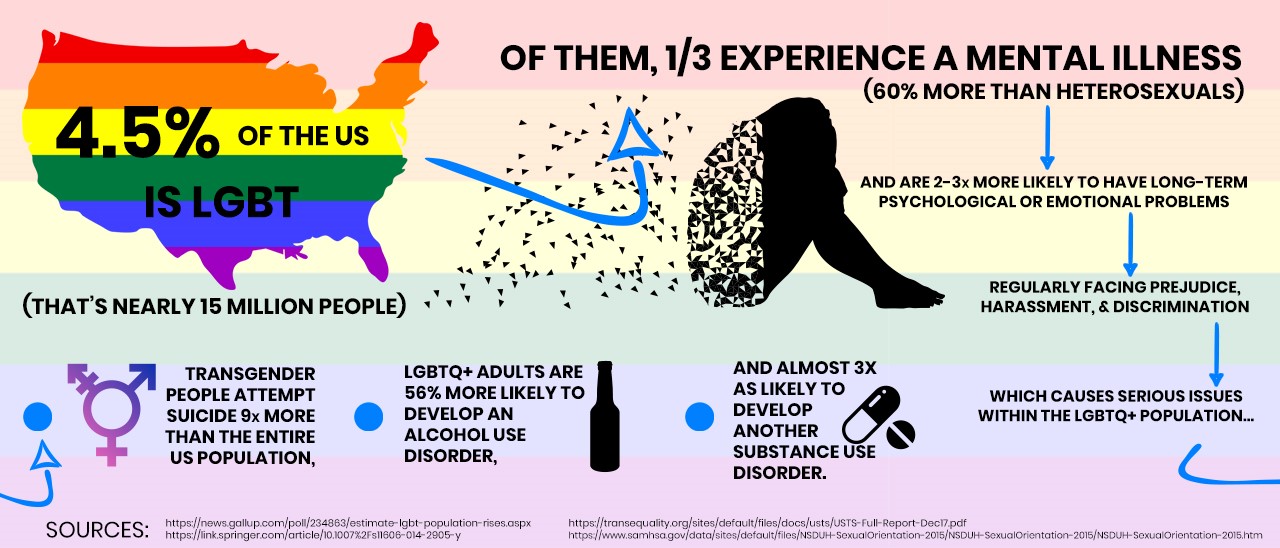 Looking for support?
Make an appointment with your FamilyMeans Counselor today!
Better is possible, we are here to help. 
651-439-4840
Meagan Betts, MA, ATR-P
Stillwater Clinic
Fun Fact: I went to the same high school as Vanilla Ice. Also, I'm quite nerdy about the Enneagram! Ask me about it! 
Self-Care Idea: Doing gentle creativity with a repetitive action can be meditative and emotionally regulating. Some ideas are doodling/zentangles, paint by number, coloring, embroidery, weaving, knitting/crocheting.
My Favorite App/Resource: Current favorite is Mood Potatoes, which is a simple mood tracking and gratitude app.
Tyler Rekowski, NCC, LPCC
Stillwater Clinic
Fun Fact: I play many computer games in my free time.
Self-Care Idea: Find something that will be mostly available as you need it (i.e. crocheting/reading/breathing). 
My Favorite App/Resource: The "Calm" application for your phone.