---
Agency Newsletter - February 2021
Feb 16, 2021
Join us for the 'Better is Possible' virtual event April 8th! 
After 12 successful years of Power of the Purse (POP), we will have a new look for our spring fundraiser event. Some elements will be familiar to POP attendees - there will be a silent auction to participate in and great program stories. As always, we will use the event to raise important funds to support the agency. Click here to join e-mailing list, or follow our social media pages for updates! 

Financial Solutions Provides Financial Hope for Families
Covid-19 continues to place strain on the finances of many individuals in the communities we serve. Financial Solutions is here to support clients through budget and debt counseling, the debt management program, credit report review, and financial education. Our nonprofit program is a member of the National Foundation for Credit Counseling, and provides tools and education for people to regain financial stability and reduce unmanageable debt.

Financial Solutions' largest service area is the Debt Management Program (DMP). This program supports clients in managing credit card or other consumer debt by simplifying payments and reducing stress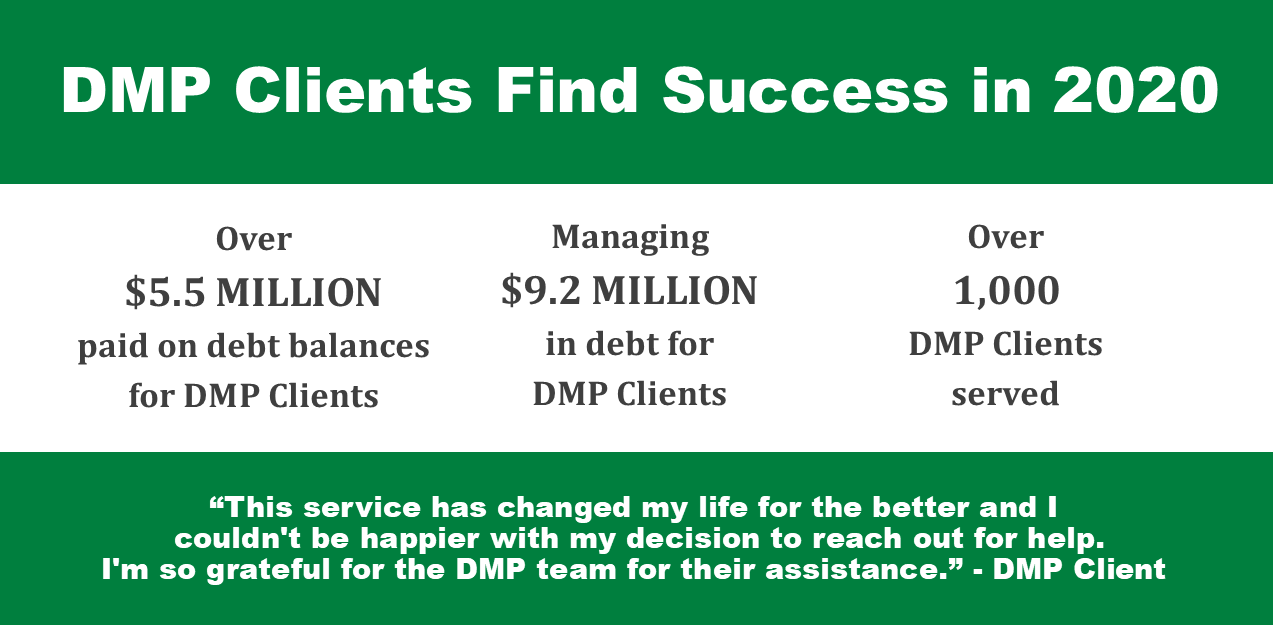 The DMP helps you consolidate and lower monthly payments, pay less in interest, stop late and over-limit fees, pay off debt sooner, and improve your credit score.  

How the DMP process works:
1. Minnesota & Wisconsin residents can contact us by phone at 651-789-4014 (toll free 800-780-2890) or by online application at FamilyMeans.org
2. Review your financial situation with one of our Certified Consumer Credit Professionals
3. FamilyMeans partners with you to communicate and negotiate with your creditors
4. Establish a structured payment plan. You make just one monthly deposit and FamilyMeans Financial Solutions distributes the funds to multiple creditors.
5. Pay off debts and learn how to better manage finances! Debt does not mean defeat!
Don't let debt rule you for another day. Get started with FamilyMeans Financial Solutions DMP and take control of your finances!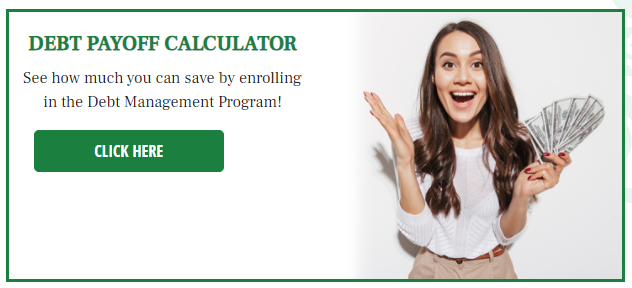 Counseling & Therapy Builds Resilience in our Community
This ability to adapt to difficult situations is called resilience. We all can build on our resilience to help protect mental health for challenges that may arise, or help to support through current struggles. Since the beginning of the Covid-19 pandemic, FamilyMeans Counseling & Therapy has been on a mission to help build the resiliency of our community, to help protect and strengthen our mental health as we work through the many challenges that have come with Covid-19.
In the fall of 2020, our therapists provided Building Resilience sessions to local parents, teachers, and school-based faculty to help support them as they provide essential services and parental support to our youth.
Early this year, we are providing self-care kits to youth in our programming to help promote mindfulness and self-care. These baskets include books, crafts, fidget items, yoga supplies, and more! Encouraging children to practice self-care and mindfulness early-on gives helps them to build resiliency so that when faced with challenges they are able to adapt and succeed.
Caregiving & Aging Celebrates 35th Anniversary
FamilyMeans Caregiving & Aging program, formerly "Services to Seniors", began providing support services to aging individuals in the St. Croix Valley in 1986. 
This local newspaper article, published almost 36 years ago, describes programming including respite care, referral service, and educational programs. Today, FamilyMeans Caregiving & Aging continues to provide these essential services to caregivers as well as additional support services as our community needs have changed over the last three decades.
Caregivers come in many forms, from a family member that provides regular care, to a friend that helps support a neighbor, or a parent of a child with disability. Each situation is different, and presents its own unique challenges. In the recent year, these challenges have been compounded by the covid-19 pandemic. Our Caregiving & Aging team has been innovative in helping to provide these essential caregiver support services, while also keeping the community safe and healthy.
Virtual opportunities this spring include:
Shaping Your Tomorrow: Education, planning, and support for those living with dementia and someone important to them. Virtual sessions each Thursday for 10 weeks beginning Thursday, February 18.  
Community Connection: An opportunity for people with early memory loss to virtually explore new places, engage with others, and connect to the community. Next session titled, Nature: MN Winter Wonderland, begins February 16!
Powerful Tools for Caregivers: A six week educational, evidence based programto help caregivers take care of themselves while caring for another. Reduce stress, learn ways to take care of yourself, and more! Next virtual session begins March 24!
Caregiver Support Groups: Support groups help caregivers to reinforce good self-care, give and receive encouragement, and enjoy support and understanding from others in similar situations. Multiple virtual options available.
If you are interested in learning more about these opportunities, or would like to speak with one of our Caregiving & Aging team members about your unique situation, request a virtual appointment using this link, or give us at a call at 651-439-4840.
Center for Grief & Loss Hosts Yoga Nidra for Grief Sessions
Beginning in December 2020, the Center for Grief & Loss has teamed up with local certified yoga instructor, Dallas Rising to provide Yoga Nidra sessions to aid in healing grief.  Yoga Nidra, also called yogic sleep, is a deep relaxation yoga practice that brings you to the threshold state between sleep and wakefulness. In this state, external senses are diminished and focus is turned inward, allowing for stress relief, increased energy, improvements in sleep/relaxation, and healing through pain and grief. Studies show that 30 minutes of Yoga Nidra can equate up to 4 hours of REM sleep. 
A gentle practice, these sessions are great for any age and ability. The next session will be hosted on Thursday, February 18 at 6:30pm via zoom. Join us as we work through this restorative practice, and leave feeling relaxed, comforted, and on a path towards healing.
FamilyMeans Helps Youth Get Connected 
Having a reliable internet connection and devices to support virtual learning are essential to the success of students during the pandemic. National data shows that in households with incomes below $25,000, only 61% of students report that computers were always available for educational purposes, and 55% percent report the same for the internet. By contrast, in households with incomes above $200,000, about 90% report that computers and the internet were always available. (Georgetown University Center on Education and the Workforce).
Lower income households in our community also struggle with having acceptable connectivity to support virtual education. Survey data from parents in the Cimarron and Landfall communities revealed that:
38% of youth had to share technology with their siblings during the spring 2020 distance learning period;
19% reported having no Wi-Fi connection in their mobile home;
Nearly 60% of respondents also reported that their internet connection speed was not sufficient to handle virtual learning sessions, including students reporting difficulty in maintaining access to virtual breakout rooms because of this slow connectivity.
 To help address these digital connectivity inequalities, FamilyMeans applied for grant funding from Partnership for a ConnectedMN, and was awarded $55,000 in fall 2020. Just 23 organizations statewide received this funding. This grant enabled us to support youth learning in Cimarron and Landfall by;
Gifting Chromebooks or laptops to youth;
Paying access fees for families' home broadband service during 2021;
Increasing computing capacity and access at our program sites to provide academic support during students' asynchronous learning times.
 FamilyMeans is pairing these tangible resources with increased tutoring support from our Youth Development program staff in both our children's and teen programs.
To date, FamilyMeans is fulfilling requests for 75 computers, and sponsoring home internet service for 10 families. Our grant also led each of our youth program sites to be designated a Comcast Lift Zone, receiving upgraded high capacity, high speed Wi-Fi connections. We are now a partner in the company's nationwide effort to connect low-income families to the Internet so they can fully participate in educational opportunities and the digital economy.
---
Program Endowment Reaches $1 Million Milestone
Memorial Gifts Assist in Steady Growth
FamilyMeans is fortunate that its leaders in the past 20 years established endowment funds to benefit the agency long-term. We entrust the management of our funds to both the Saint Paul & Minnesota Foundation and the St. Croix Valley Foundation. Some funds are earmarked for facilities and others for program support. For the first time, this latter has reached the $1 million mark after positive investment gains and an added influx of gifts in honor of former President, Arba-Della Beck's retirement in June 2020. 
Additionally, one key ingredient for our successful endowment growth is memorial gifts. Unless otherwise specified, all memorials go directly the program endowment fund. The agency appreciates the many families over the years who have thoughtfully directed memorial donations on behalf of their loved one to the agency or specific program. These gifts have made a large impact on our program endowment! 
Overall, the agency experiences soli financial footing to weather the fluctuations of economy or philanthropic practices. As we continue to diversify funding streams, the investment income earned from the program endowment assists in budget stability. The board's decision to build the endowment - reflects our commitment to ensure that FamilyMeans will provide relevant , responsive, and accessible services for years to come. 
Learn more about program endowment or make a donation in support of this fund by visiting  FamilyMeans.org/gifts-in-memorial. 
FamilyMeans Earns Silver Status from Sustainable Stillwater marking the organization as a partner in a greener community and helping to work towards a sustainable future.
Pictured: FamilyMeans President, Jim Kroening and Board Member, Mike Lyner
FamilyMeans Board of Directors
2020-2021
 Brian Gunderson, Chair | Cary Stewart, Treasurer
Susannah Torseth, Secretary | Elizabeth McGinley, Past Chair
Charles Bransford, MD | Melissa Harris | Heidi Hubbard, MD 
Marissa Lucio | Mike Lyner | Jessica Meletiou | Rajean Moone, PhD
Linda Skoglund | Josh Zignego | James Kroening, President & CEO
FamilyMeans
1875 Northwestern Ave S,  | Stillwater, Minnesota  55082
651 439 4840 | FamilyMeans@FamilyMeans.org